The multi-purpose silicone spatula is made of pure silicone. The spatula is flexible and hygienic making it perfect for home and professional use.
---

Spatula - white Dimensions: 6 inch Material: Polystyrene
---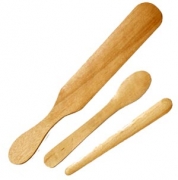 Features: Edges are precisely angled clean lines for facial and bikini waxing Washable, reusable and easy to clean Great for detail areas Consists of the following three sizes (1 each): Professional Small Spatula - for under arm area.
---
Showing 1 - 3 of 3 Results